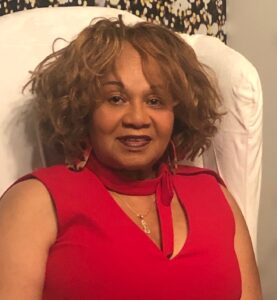 Professional Background:
Ms. Gordon's career with the Department of Defense spans over 38 years.  She retired as the Deputy Director of Special Programs Division-West (SP West) of the Defense Contract Management Agency.  She was responsible for managing the activities of multifunctional contract management teams (consisting of contracting officers, engineers, quality assurance specialists, industrial specialists, software specialists and program integrators) throughout the western United States.  She also held positions a Contracts Branch Chief, the SP West Operations Group Chief, and as the Acting SP West Director.  Ms. Gordon brought several innovations to SP West.  She established annual workshops that included the Operations team members, suppliers, customers, and District personnel.  These workshops became a critical tool to ensure that the teams are continually exploring new ways and ideas to meet their customers' desired outcomes.  This concept has been adopted across the Directorate.  In response to the changing defense contactors' strategies and workload shifts, Ms. Gordon was instrumental in establishing new operations teams in Arizona and Washington State.
Ms. Gordon has held numerous positions in various agencies.  At the Naval Air Systems Command, she was a contract specialist responsible for negotiating weapons systems and components for major systems such as the A-6 aircraft annual procurement; the Angle Rate Bombing Sets for the A-4B and AV-8B aircrafts, the Rapidly Deployable Surveillance System for the P-3 aircraft, the P-3 Update III, and the P-3 modernization.  Many of her negotiations required the approval of the Assistant Secretary of the Navy.
At the Naval Regional Contracting Center San Diego, Long Beach Detachment, she was the Contracts Branch Chief.  She was responsible for the negotiation and award of over $300 million per year for engineering, research and development and hardware contracts.
Education:     
 Master's degree in National Resource Strategy from the National Defense University
 Bachelor's Degree in business administration from Norfolk State University
  Business Resource Management Program from University of Virginia
Accolades:
  Warranted contracting officer for over 20 years
  Defense Acquisition Workforce Improvement Act (DAWIA) Level III certified in contracting
  Defense Contract Management Agency 2010 Leadership Award recipient
  Throughout her career, Ms. Gordon has received numerous Agency and customers awards and recognitions
Margaret Moodian: What impact has your experience had on your views of the political and economic situation in South Africa?
Doris Gordon: I see a lot of parallels between South African blacks and the Americans blacks in their struggle for political and economic independence.  I see health and education as the major path forward in improving the quality of life of the forgotten and invisible citizens in both countries.  My personal experience has shown me that most people want and deserve an opportunity to grow, to learn, and to live.  As Dr. Martin Luther King Jr said: "And I've seen the Promised Land.  I may not get there with you. But I want you to know tonight, that we, as a people, will get to the promised land."  Organizations like TIAS ARMS are striving to provide hope and opportunities. We all may not reach the promised land at the same time but as a people we must continue to reach back and pull someone forward.
Margaret Moodian: Why is it important for Americans to help children affected by HIV and AIDS in South Africa?
Doris Gordon: Human Immunodeficiency Virus (HIV) and acquired immunodeficiency syndrome (AIDS) hit the world in the 1980s.  Many people around the world died from this unknown disease.  Millions upon millions of dollars have been expended to find a cure.  There is still no cure, scientific advancements have helped make significant progress toward helping end the epidemic.  In the industrialized nations, HIV and AIDS are no longer an automatic death sentence. The children of South Africa are innocent.  This disease created orphaned children as mothers, fathers, and grandparents have died from the disease; some of the children live in households headed by older siblings; some of the children are born with the disease.  There are so many ways that these children are affected by the HIV and AIDS.  When you combine all this with austere poverty and lack of necessities, the children have very little hope or opportunities in life.  The world cannot sit by and watch a generation of children suffer and die from HIV and AIDS.  The United States of America is the richest country in the world.  Our citizens are proud of being a melting pot and a country of immigrants.  America has benefited greatly from the ideas, resources, and labor from around the world.  America's unique citizenry demands that Americans help children affected by HIV and AIDS.
Margaret Moodian: How have you seen TIAS ARMS strengthen over the years?
Doris Gordon: TIAS ARMS has grown in its professionalism, donors, and public awareness, while remaining true to its mission.  Increased donations have allowed TIAS ARMS to build stronger connections with the grassroots organizations in South Africa and its volunteers.  The leadership at TIAS ARMS is always seeking opportunities and providing needed information to grantees to help them help themselves.  This partnership and respect have allowed TIAS ARMS to assist the grantees in meeting the challenges created by natural disasters and community challenges.
Margaret Moodian: Any organization would be very fortunate to have you involved. Why did you decide to join the board of TIAS ARMS?
Doris Gordon: This is an interesting question.  Through Joanne Baker, the founder of TIAS ARMS, I became a donor and attended TIAS ARMS annual Tea Party.  Years later, I took a trip to South Africa.  While planning my trip, Ms. Baker encouraged me to visit some of the charities TIAS ARMS supports.  With Ms. Baker's help and a wonderful guide, I was able to visit Grandmothers Against Poverty and Aids (GAPA), Never Neverland School, St. Joseph Preschool, and Khazimula.  It was an amazing experience to witness the love, dedication, compassion, and joy of the volunteers and the children.  It made me want to do more.
Margaret Moodian: What did you do in South Africa?  
Doris Gordon: These are all joint efforts shared with my travel mate, Ballerie Hargrove.
GAPA – took gifts of scarves and perfume for the volunteers.  Purchased handmade items made by the volunteers.  We walked throughout the township.  Observed the children participating in the after-school program.  Also, toured the vegetable garden that TIAS ARMS funds that provides much needed fresh vegetables for the children
St Joseph Preschool – provided funds for a party for the children and scarves and perfume for the volunteers.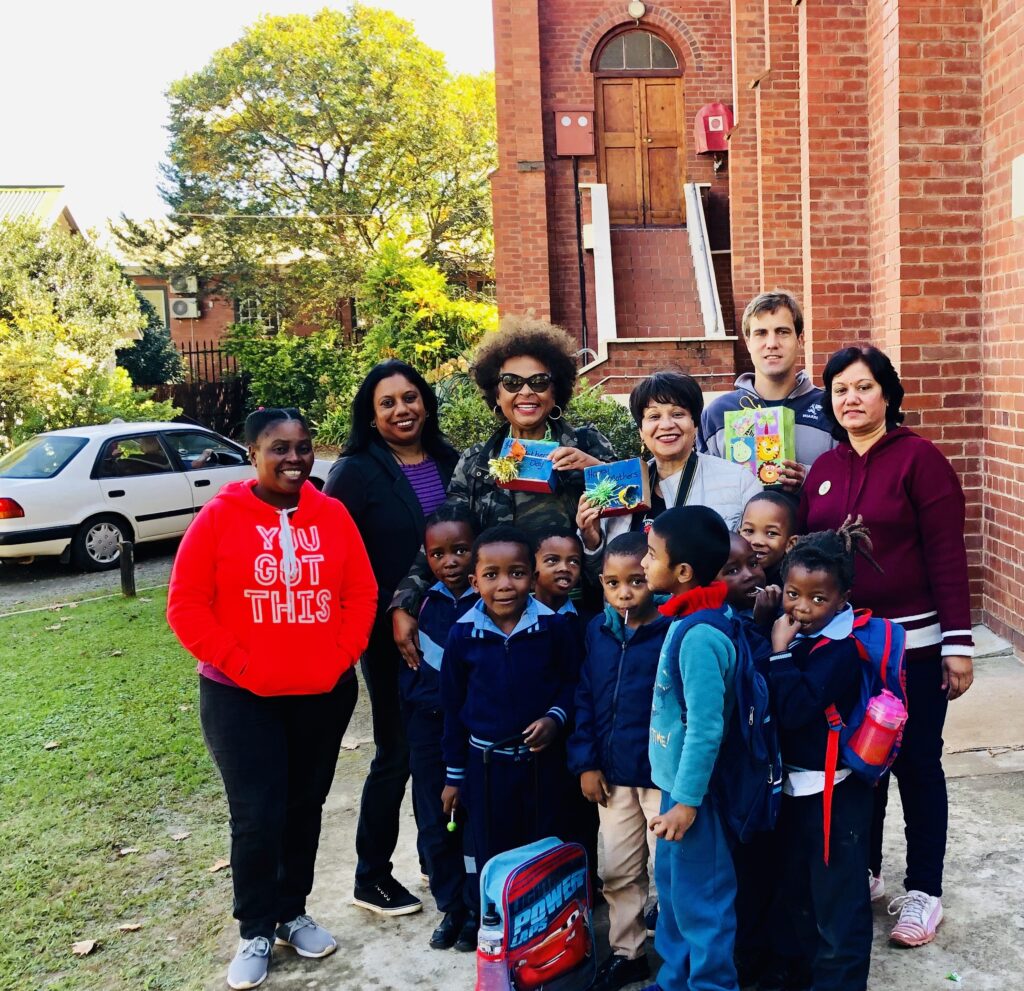 Never Neverland School – upon our arrival, we learned that the school had not received their funding for food and the cupboards were bare.  A trip to the supermarket provided them with almost two months of food. Costing less than most Americans spend for a week at the supermarket.  We were given a tour of the school by the "top boy and top girl" students.  The volunteer grandparents had the most beautiful and healthy vegetable garden.  Each volunteer had so much pride in their work.
Khazimula – gave a party for the children, danced with them, and toured the residence.
Dolls that look like me… At each location, I observed the children at play.  Most of the toys were donated and none of the dolls looked like the children.  Not wanting to offend anyone, I asked if I could send the children dolls of color.  When I returned home, I discussed the idea with Ms. Baker.  I was able to collect and send over 100 dolls and action figures to South Africa.
These experiences taught me that perhaps in some small way I might have a positive impact and provide hope to those with so many needs.  When I was asked to join TIAS ARMS board, I thought that I could bring my business skills, as well as increase donations.  Shortly after, I joined the board, the world was hit with the COVID-19 Pandemic.  The pandemic forced us into a virtual world.  Notwithstanding the challenges, this experience taught me that the small things we do can have a major impact on someone else.  That is why a joined the TIAS ARMS board.
Margaret Moodian: TIAS ARMS has recently gotten involved in advocacy.  What are some ways in which you see TIAS ARMS could assist the children in South Africa with our policies?
Doris Gordon: Advocacy is a big word with many interpretations.  TIAS ARMS continues to raise awareness and to remind people that HIV/AIDS still has a devastating impact on children in South Africa and other parts of the world.  I envision TIAS ARMS growing its partnerships with other organizations to improve the life of the children impacted by HIV/AIDS. I see TIAS ARMS as a beacon of hope for a better future.    In addition to meeting the basic needs, TIAS ARMS has a unique opportunity to create a scholarship program that will offer an opportunity and hope for a better future to these children.